Available for print / Web / mobile
Henry Payne creates sharply drawn editorial cartoons from a conservative viewpoint. Called "the Thomas Nast of his time" by The National Review magazine, Payne is an informed journalist whose investigative writing has also made national headlines. For many years the staff cartoonist at the Detroit News, he now serves as a columnist and editorial writer at the paper. Payne has reported important stories on economic, consumer and environmental issues. His articles have appeared in The Wall Street Journal, Weekly Standard, National Review, Scripps Howard News Service and numerous papers around the country. He is a contributing cartoonist to Reason magazine.
Henry Payne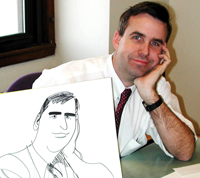 Born in 1962 in Charleston, West Virginia, Payne received a degree in history from Princeton University. As editorial cartoonist for two student newspapers, Payne won the College Media Advisers Cartoon Contest and the Tribune Company Syndicate's National College Cartoonist's Contest. Upon graduation, Payne began his newspaper career as staff artist and editorial cartoonist with the Charleston (WV) Daily Mail. In 1986, he joined SHNS and began syndication with United Feature Syndicate in 1987. He has been a runner-up for both the Pulitzer and Mencken awards.
Payne is an active race car driver and tennis player, and lives with wife and their two children in Bloomfield Hills, Michigan.
Meet the Cast of Henry Payne