Behold, an un-pale horse with no name. Oh, wait. His name is Horace. And he's sarcastic. And silly. And lives in an infinitely expandable world. And sometimes gets slapstuck. And day after unpredictable day he boldly goes where no horse -- let alone a comic strip -- has gone before. Yes, there are sidekicks; a bird, a lady horse, a never-seen neighbor. And if the post-it note did not exist, Samson would have had to invent it so Horace would have yellow panels in which to play. Welcome to the bright side of the world. May the horse be with you.
Samson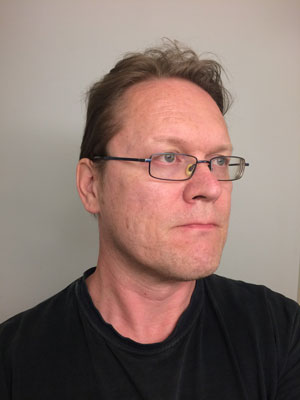 Samuli Lintula AKA Samson (b. 1971) is a Finnish-born cartoonist. His lifelong love of comics and cartoon art has led to a diverse career in cartooning. He's been a regular contributor to the Finnish edition of MAD magazine and has illustrated several bestselling war-themed comics, to name but a couple highlights from a massive backlog of pen-for-hire cartoon work spanning four decades. In 2008, on his 9,859th day of Serious Cartooning, Samuli created the webcomic "Dark Side of the Horse." It was picked up for print syndication in Finland and for web syndication everywhere else in 2010. Samuli lives in Helsinki with his wife, their three children and numerous cats. When it comes to the number of cats in their household, Samuli likes to quote Monty Python and the Holy Grail: "Four shalt thou not count, nor either count thou two, excepting that thou then proceed to three. Five is right out."
Meet the Cast of Dark Side of the Horse
HORACE A horse of a different color. Thinks he's far too perfect to be arrogant. Not a big reader. Or a real talker. Not much of a listener, either. He does enjoy sitting, though. Honorary Doctor of Cartoon Physics, Wile E. Coyote University.


MELODY The lady horse. Yin to Horace's Yang (or vice versa). Horace is her unofficial personal trainer, as he provides her with plenty of exercise in the form of serious eye-rolling. Are they romantically linked? When we reached out to Cupid for a comment, his spokesperson responded, "It's complicated."


SINE The bird. The third wheel that seldom keeps their feet on the ground. Provides flying commentary for this cartoon. Junior Branch Manager, backyard tree.