Available for print
Word Game is created by Kathleen Saxe, a former English teacher. Each puzzle gives the reader the word of the day and the number of words to be found for that day. The real challenge comes as puzzle-doers attempt to discover more words than the clues suggest.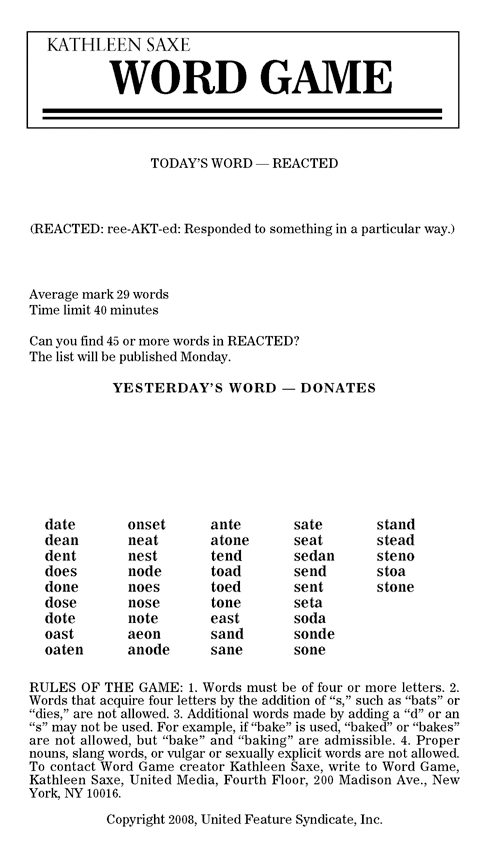 Kathleen Saxe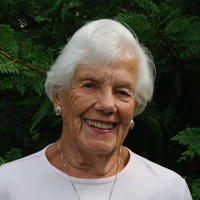 When my father was real estate editor of the New York Sun, just as a sideline he put together the Word Game (an old children's game) for that newspaper. The little feature was picked up by the Bell Syndicate, distributed nationally, and has survived these many years. When my father didn't have time for it, it fell to my mother to do it, and finally to me. I like to call it the family business.
I graduated from the University of Rochester with an English/French major. I worked for Time Inc. for a few years, and then stayed at home with my four children. I was never an English teacher, as reported on the Internet. As you can see from my picture, I have been young for a very, very long time.
At one time the rules of the game (not my idea) asked, "How many dictionary words can you find?" Not good. I am always trying to make the game more user-friendly. When asked what my references are, I would like to say, "Kathleen's Dictionary of Words That a Lot of People Might Know."
Meet the Cast of Word Game