Available for print / Web / mobile
Jim Mullen takes a wry, witty look at the curiosities of American life in his weekly column. Almost everything is fair game — from the price of a cup of coffee, to shopping at big-box stores, to the perplexing lifestyles of the rich and famous.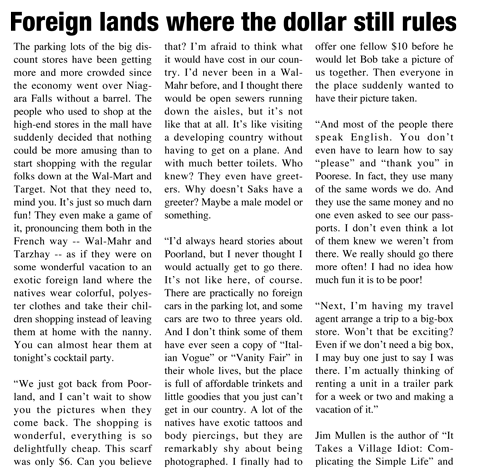 Jim Mullen
Jim Mullen lived in New York City's trendy Greenwich Village for 20 years before moving to a former dairy farm in the Catskill Mountains. His comic memoir about the experience, "It Takes a Village Idiot: A Memoir of Life After the City," was a runner-up for the Thurber Prize for American Humor. His other books include "Baby's First Tattoo: A Memory Book for Modern Parents," "How to Lose Money in Your Spare Time at Home" and "Kill Me, Elmo: The Holiday Depression Fun Book." He is working on a sequel to "Village Idiot" called "Don't Come Again, Soon."
For 13 years, Mullen wrote the "Hot Sheet," a topical humor column for Entertainment Weekly that poked fun at celebrities. "I called it kicking people while they were up," he said. Mullen's freelance work has appeared in The New York Times, New York Magazine and The Village Voice.
Meet the Cast of The Village Idiot