Available for print / Web / mobile
For most of us, the memory of a story told before bedtime is like a warm glass of milk &" soothing, comforting, savored. Each week, Amy Friedman and Meredith Johnson give us an original story or a children's classic accompanied by a captivating illustration that will launch the imagination.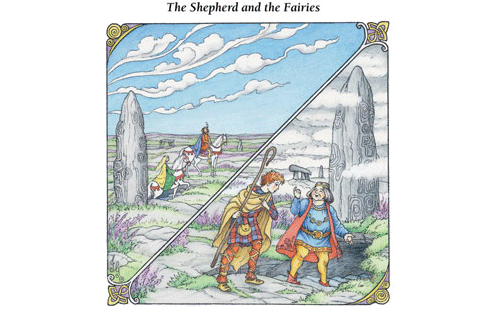 Amy Friedman and Meredith Johnson

Amy Friedman
Tell Me a Story writer and Los Angeles resident Amy Friedman began writing stories when she was 12, emulating her storytelling father. Stories formed the heart of her life growing up in Cleveland, Ohio, and she took her love of writing along with her as she moved to New York City, where she received her B.A. in literature from Barnard College and an M.A. in creative writing from City College, City University of New York.
Crisscrossing the country from New York to San Francisco, back to New York, then to a sheep farm in a small eastern town of Ontario, she settled in Los Angeles in 2002 where she lives with her husband, the writer Dennis Danziger. While in Ontario, she wrote a weekly column for Canada's oldest daily newspaper, The Kingston Whig-Standard, and created the seeds of what would become, in 1992, Tell Me a Story. The first incarnation of Tell Me a Story, The Bedtime Story, won the 1991 Alberta Literacy Award for outstanding contribution to literacy.
Friedman has written five books, which have received critical acclaim, including her latest, Desperado's Wife: A Memoir (2012). She continues to write and publish both fiction and nonfiction for newspapers, magazines and literary journals. She also performs her stories, often accompanied by musicians, in schools and at summer festivals.
Friedman has produced three children's folktales CDs entitled "Tell Me A Story: Women of Wonder" (released 2009), "Tell Me A Story: Animal Magic" (2007), and "Tell Me A Story: Timeless Folktales from Around the World" (2006), which have won multiple awards, including an Audie in 2010 for Women of Wonder.
Friedman teaches creative writing in Los Angeles and credits her husband, the ocean, the St. Lawrence River and her dogs for her inspiration.
Meredith Johnson
Meredith Johnson remembers standing on the bed and carefully coloring in the flowered wallpaper during a nap when she was about 3 years old. From that rather shaky start, her crayon career had nowhere to go but up. She drew on everything, all the time: She drew on tabletops, the back of the front seat of her family's Ford, the garage floor, on the soles of her shoes, on the tops of her sister's shoes. She created baby books for each of her dolls by drawing all the "photos" and baby cards. She drew in handsome husbands for herself. (They were all named "Paul.")
In the fourth grade, Meredith had to stand in the corner for drawing a moustache on a picture of her teacher. (She says she drew what she saw.) She later got to do the Christmas bulletin boards in junior high because, as she says, hers were the only angels who didn't look like condors in sheets. By the time she was voted "Best High School Artist" her senior year in Raytown, Mo., she felt her zenith had been reached.
So she got married and moved to California. Her husband (with the heart of a saint) put her through the Art Center College of Design in Pasadena. They have been married 35 years and have two grown children.
Meredith has been an advertising art director for 23 years, creating and shooting Saturday morning commercials for Barbie. And now that her kids are away at college, she devotes all her energy to illustrating, including numerous children's books. (She's illustrated nearly 130 books.)
As Meredith says, it's nice to work out of the house now, watching the dog herd frogs into the pool, or chatting with the FedEx man.
Meet the Cast of Tell Me a Story