Available for print / Web / mobile
For many daytime television viewers, Nancy M. Reichardt's job is a dream come true. Reichardt writes The Soaps: Tune In Tomorrow, the definitive guide to the who, what, when and where of daytime soap operas. To get her information, she watches the soaps and interviews the stars.
The Soaps: Tune In Tomorrow is syndicated three times weekly to nearly 200 newspapers in the United States and Canada. Continuing the successful format established by Jon-Michael Reed in 1976, Reichardt writes summaries, answers readers' questions and interviews popular stars and promising newcomers.
According to A.C. Nielsen figures, of the 40 million people who watch one or more soap operas each week, 69 percent are women over 18, and 18 percent are men over 18.
"Most people assume the typical soap opera viewer is a middle-aged housewife," Reichardt says. "That's not so. Businessmen and college students, sports figures and celebrities are soap viewers, too."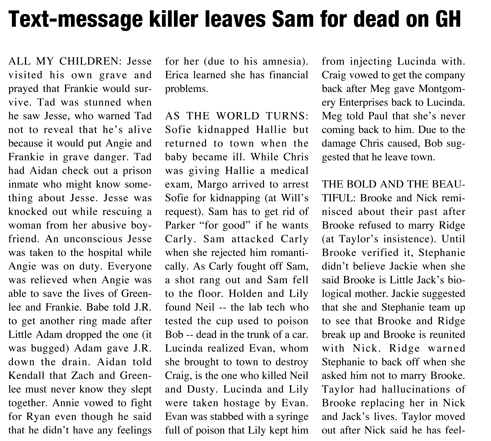 Nancy M. Reichardt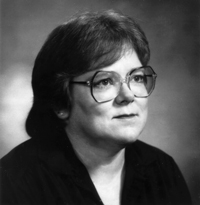 Nancy Reichardt began her work with soap operas in 1976 as columnist Jon-Michael Reed's assistant. She has been a writer and assistant editor for various soap opera publications such as Daily TV Serials, Afternoon TV, Daily TV Serials Newsletter and Soap Opera Now.
"Keeping track of all the story lines can be a monumental task but I'm glad I get to write about a subject I genuinely enjoy," says Reichardt. Her afternoons are spent in front of two televisions. On weekends she enjoys relaxing around her home, in upstate New York.
Meet the Cast of The Soaps: Tune In Tomorrow