Available for print / Web / mobile
In his Smart Money column, Bruce Williams answers readers' questions on personal finance, covering concerns such as collecting debts, investing inherited money, starting a business and getting a loan. "Smart Money has a light touch," Williams says. "It's not meant to be professional or reproachful, but rather direct and straightforward. I'll tell people when they've made a mistake, because I've been there."

Bruce Williams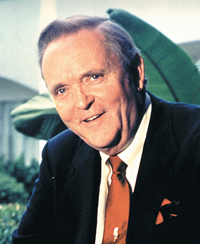 Bruce Williams gained his financial expertise in a variety of businesses. He has sold insurance, driven a beer truck, worked in a brewery and bought and sold real estate. He has founded and owned numerous businesses, including a private school and a wholesale and retail florist. He also served two four-year terms on the city council (including one term as mayor) of Franklin Township, N.J.

Williams was host of a financial radio talk show on XM called "The Bruce Williams Show," which was heard on more than 300 radio stations over the years and was the longest-running national radio show.

Today, he hosts "The Bruce Williams Show" and answers questions about money matters five days a week on the Made in America Broadcast Network. Williams has been inducted into the Radio Hall of Fame and has been selected by his peers as the No. 6 all-time radio talk show host.

Meet the Cast of Smart Money