Available for print / Web / mobile
Lovescope is a weekly astrological look at romance, which will help lovers decide when to back off or move forward with love. For each week, Eugenia Last offers the romantic outlook for each individual astrological sign.

Eugenia Last also writes the syndicated columns The Last Word in Astrology, Dear Eugenia, Astro Advice Monthly and Astro Advice Weekly.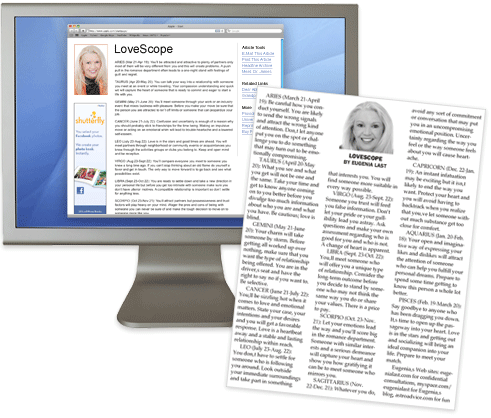 Eugenia Last
Born and raised in the Toronto area, Eugenia Last attended Alma College in St. Thomas (Ont.), Institute of Astrological Studies and Humber College. Being reared by a Romanian/Ukrainian family who had a strong belief in astrology made this art particularly easy for her. Last began forming a client base during her second year of college and started to write for local newspapers in 1979.
Greater recognition followed. By the mid-1980s, Last had her own radio show and was a featured guest on numerous radio and television shows. By the late '80s, she published her own book.
Last's syndicated column, "The Last Word in Astrology," has been distributed by Andrews McMeel Syndication since 1997. It runs in nearly 300 newspapers worldwide. In addition, since 1992, she has written yearly books offering the only day-by-day horoscope guide for each of the signs, as well as a practical guide to astrology, based on her philosophy.
"For years now, astrology has been misinterpreted, misunderstood and misused by being associated with psychics and the occult," says Last. "Astrology is first of all a mathematical science and secondly an interpretive art. I am conclusively trying to teach people that astrology is not a predictive subject but one that deals with self-awareness, personal insight, growth and timing. I want to bring my subject to you in an educational, entertaining and motivating manner."
Last believes that the ancient art of astrology can be considered the modern art of timing. Often considered fortunetelling, astrology is rather a tool that can be used to help an individual to do the right thing at the right time.
Last has the top astrological Web site in the world. She launched her www.astroadvice.com site in English, Spanish, Korean, Chinese, simplified Chinese and Japanese and has recently taken over the astrological portion of Web TV. She has made a vast number of media appearances and is currently developing her own television show.
Meet the Cast of Lovescope
Eugenia Last, whose astrology columns are syndicated by Andrews McMeel Syndication worldwide, believes there is no such thing as failure. She considers the ancient art of astrology the modern art of timing. By studying the positions and aspects of celestial bodies within a person's birth data, astrology becomes a practical tool that can help individuals make sound decisions and develop solid relationships.