Available for print / Web / mobile
What did Yasser Arafat, Shimon Peres, Anwar Sadat, Fidel Castro, Saddam Hussein, Moammar Gadhafi and the Ayatollah Khomeini have in common? They were all interviewed by foreign correspondent Georgie Anne Geyer. For 40 years, Geyer has delivered distinctive foreign commentary from an impressive variety of fronts. Geyer's intuition, backed by her knowledge of five languages, worldwide contacts and voracious historical research, distinguishes her as a foremost authority on global politics.
Georgie Anne Geyer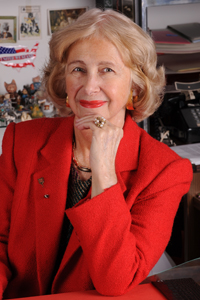 Georgie Anne Geyer was born in Chicago and graduated from the Medill School of Journalism at Northwestern University in 1956. Geyer, who speaks Spanish, Portuguese, German and Russian, then attended the University of Vienna on a Fulbright Scholarship to study modern history.
She began her career as a reporter for the Chicago Southtown Economist. From 1959 to 1974, Geyer was a reporter for the Chicago Daily News, where she became a foreign correspondent specializing in Latin America.
In 1973, she was the first Western reporter to interview Saddam Hussein, then vice president of Iraq, and has also interviewed Yasser Arafat, Shimon Peres, Anwar Sadat, Fidel Castro, Moammar Gadhafi, the Ayatollah Khomeini, Hugo Chavez, Ronald Reagan and George H.W. Bush. Geyer focuses beyond surface events and the next deadline to examine root causes of revolution and political upheaval. She was nearly killed in an airport bombing in Managua, was threatened with death by Guatemala's White Hand death squad, and was jailed in Angola for predicting a Soviet-sponsored coup against the Cuban-backed Marxist government.
Based in Washington, D.C., Geyer writes on foreign and domestic affairs each week; her work appears in more than 500 newspapers and digital outlets around the world. She is also the author of 11 books on Latin America, Russia and the Middle East, including Guerrilla Prince, a biography of Fidel Castro that was later adapted into a TV movie, and her own autobiography, Buying the Night Flight.
Geyer is a member of Washington's exclusive Gridiron Club and was the first woman member of the prestigious Cosmos Club. She is the winner of numerous awards for distinguished journalism, most recently the Chicago Journalists Association's Daniel Pearl award.
A Chicago native and graduate of Northwestern University, she holds an honorary degree from her alma mater as well as 23 other universities. Geyer also studied abroad on a Fulbright Scholarship at the University of Vienna. She has represented the United States abroad on U.S. Information Service speaking tours and lectured at the Naval War College, the Marine Corps Base Quantico, the Defense Intelligence Agency and the Smithsonian Institution. She was also a regular commentator on public television's "Washington Week in Review."
Meet the Cast of Georgie Anne Geyer