Available for Web / mobile
Looking for a fun crossword challenge? Then look no further than Crosswords Cubed. This new digital crossword game comes with a twist. By solving each side of the crossword cube you unlock each day's two hidden phrases. While each side of the cube may hold a small crossword puzzle, you'll have big fun solving the whole puzzle. Try it online today.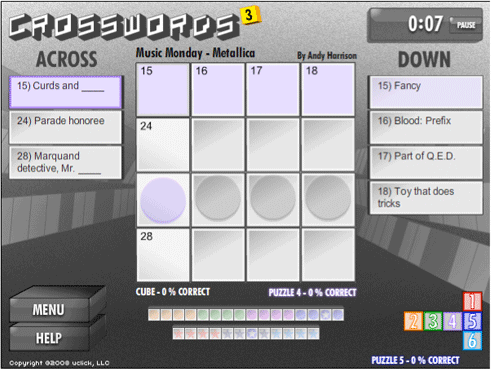 Andy Harrison
Andy Harrison started Doc Word in 2005, providing content to sports teams, multiple college alumni and B2B publications, as well as online for Discovery and The Learning Channel. In 2007, he expanded in to real-time sports trivia games. In 2008, he launched Crosswords Cubed with Andrews McMeel Syndication.
With the move to mobile, Andy established Clout Mobile Games. Prior to Doc Word, he ran SixthMan Consulting (founded in 1999), providing strategy and research services to early stage and start-up companies, and to Fortune 100 companies like SONY, AOL and Citigroup Credit Card Services. He has worked for Young & Rubicam, Harte-Hanks, Sallie Mae, American National Bank (IL) and Drake Beam Morin.
Andy has also been an adjunct professor at Pace University's Business School and lectures regularly on entrepreneurship at Fordham University. Andy graduated cum laude from Tufts University and received his MBA from Harvard.
Meet the Cast of Crosswords Cubed