Available for print / Web / mobile
A household name inside and outside the Beltway, Donna Brazile delivers her Washington insight and political savvy in a weekly column available to newspapers nationwide. Brazile provides a valued and informed opinion on current events, drawing on her vast experience as a political strategist, journalist, and educator.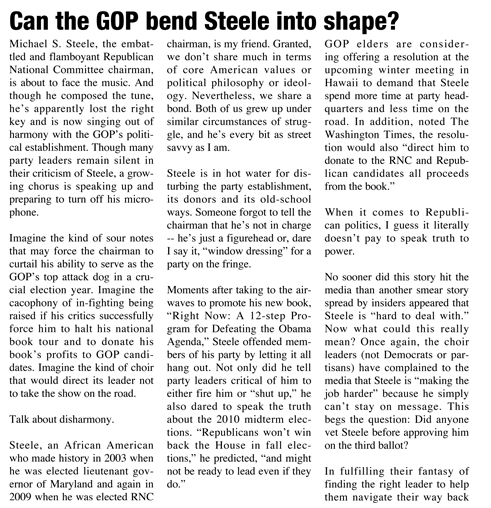 Donna Brazile
Veteran Democratic political strategist Donna Brazile is an adjunct professor, author, syndicated columnist, television political commentator, and Vice Chair of Voter Registration and Participation at the Democratic National Committee. Having recently served as the interim Chair of the Democratic National Committee, Ms. Brazile continues to be a widely-sought voice on the political news of the day.

Her insights and analysis come from 30 years as both a beltway insider and an advocate for women and minority representation, protecting the middle class, and voting rights. Believing in the need for a more civil and inclusive form of politics, Ms. Brazile frequently speaks about the state of discourse in the age of Obama as well as the barriers to entry that still exist for African-Americans, women, and young people seeking access to the halls of power. She also speaks passionately about D.C. representation, Gulf Coast recovery and revitalization, and her beloved New Orleans Saints.

A New Orleans native, Ms. Brazile began her political career at the age of nine when she worked to elect a City Council candidate who had promised to build a playground in her neighborhood; the candidate won, the swing sets was installed, and a lifelong passion for political progress was ignited. Four decades and innumerable state and local campaigns later, Ms. Brazile has worked on every presidential campaign from 1976 through 2000, when she served as campaign manager for former Vice President Al Gore, becoming the first African-American woman to manage a presidential campaign.

Author of the best-selling memoir Cooking with Grease: Stirring the Pots in American Politics, Ms. Brazile is an adjunct professor at Georgetown University, a syndicated newspaper columnist for Andrews McMeel Syndication. She regularly contributes to Ms. Magazine, O Magazine, and Roll Call, and is an on-air contributor to CNN, NPR, and ABC, where she regularly appears on This Week with Christiane Amanpour.

In August 2009, O, The Oprah Magazine chose Ms. Brazile as one of its 20 "remarkable visionaries" for the magazine's first-ever O Power List. In addition, she was named among the 100 Most Powerful Women by Washingtonian magazine, Top 50 Women in America by Essence magazine, and received the Congressional Black Caucus Foundation's highest award for political achievement. A former member of the board of directors of the Louisiana Recovery Authority, responsible for leading the state's rebuilding process in the aftermath of two catastrophic hurricanes, she recently was named a Weiss Award recipient by the New Orleans Council for Community and Justice. Ms. Brazile is the proud recipient of honorary doctorate degrees from Louisiana State University and Xavier University of Louisiana, the only historically Black, Catholic institution of higher education in the United States.

Ms. Brazile is founder and managing director of Brazile & Associates LLC, a general consulting firm based in Washington, DC.

Meet the Cast of Donna Brazile