Lalo Alcaraz – caricaturista editorial premiado y periodista latino – captura la esencia del cambiante panorama cultural y político del país. Alcaraz ha producido caricaturas editoriales para LA Weekly desde 1992 y también crea caricaturas en español para La Opinión, el periódico más antiguo en idioma español en los Estados Unidos. Su trabajo ha aparecido en The New York Times, The Village Voice, Los Angeles Times, Variety, Hispanic Magazine, la revista Latina, La Jornada en la ciudad de Méjico, BUNTE (la revista People en Alemania) y muchas otras publicaciones. Añada variedad instantánea a las noticias y opiniones de su sitio en Internet con la perspectiva inteligente, joven y polémica de Alcaraz.
Lalo Alcaraz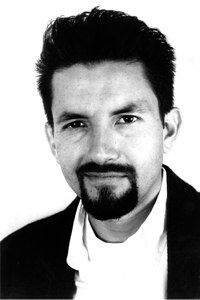 Lalo Alcaraz es un caricaturista editorial con sede en Los Ángeles, ganador de varios premios y creador de la tira cómica diaria La Cucaracha que se publica nacionalmente. También crea caricaturas editoriales en inglés y español para Andrews McMeel Syndication, apareciendo en varios periódicos.
Alcaraz fue finalista por el premio Pulitzer en 2020 y 2021 por la categoría de Caricaturista Editorial y el primer latino en recibir el Premio Herblock en 2022. Fue escritor y productor del programa de televisión animado Bordertown para Fox TV en 2014 y un Consultor Cultural para Coco la película de Pixar ganadora del Oscar. Vive en Los Ángeles con su esposa quien es maestra en una escuela pública y tiene tres hijos casi en la universidad.
Meet the Cast of Lalo Alcaraz en Español