Applauded by both the Washington Post and Wired magazine, Too Much Coffee Man is just the twitchy, existential Superhero-everyman for these high-octane times. The pre-eminent icon of caffeine culture, TMCM gives us wild flights of fancy and dazzling monologues, twisted commentary and endless dollops of over-amped anxiety.
Shannon Wheeler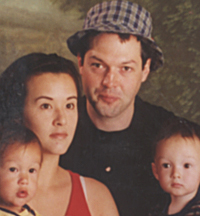 Shannon Wheeler is the recipient of multiple awards including the Hatch Broadcasting Award (for a Converse tennis shoe commercial) and an Eisner Award (for the Too Much Coffee Man comic book). He started cartooning in the late 80s while studying architecture at UC Berkeley. He's worked in both animation and illustration but never architecture.
Too Much Coffee Man began in 1993 as a way to make fun of coffee patrons but morphed into a comic book character rich with social satire and political commentary. Dark Horse Comics has published 4 graphic novels collecting much of the work.
Too Much Coffee Man currently appears in a comic strip published weekly by over a dozen alternative newspapers across the country.
Shannon Wheeler currently lives in Portland, Oregon where he drinks too much coffee.
Meet the Cast of Too Much Coffee Man
Too Much Coffee Man is one of those comics that manages to stay relevant no matter what the season. From the nervous adventures of its titular character to the secret life of cats, Shannon Wheeler's distinctive art style and unique perspective is a welcome addition to any reading list.