Available for print / Web / mobile
The Knight Life is a hilariously twisted view of life through the eyes and pen of its creator, community-oriented urban urbanite and award-winning cartoonist Keith Knight. The Knight Life deftly blends political insight and neurotic humor in a uniquely fluid and dynamic style, offering a comic strip that's fresh, sharp, topical and funny.
Keith Knight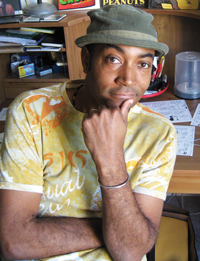 Keith Knight is the cartoonist behind the comic strip The Knight Life. It deftly blends political insight and neurotic humor in a uniquely fluid and dynamic style, offering a comic that's fresh, sharp and topical. Knight also authors the comics The K Chronicles and (th)ink. Regarding his comics, Knight stated, "They're funny, unique and were made in this century!"
History
Born and raised in the Boston area, Knight grew up on a steady diet of sports, racism and Warner Bros. cartoons. While attending Salem State College, he began drawing comics for the college newspaper in 1985. He is a contributor to MAD Magazine. Knight is a recipient of several cartooning industry awards: the Harvey Award, several Glyph Awards and a Comic-Con Inkpot Award for career achievements. He and his family currently reside in Los Angeles.
Meet the Cast of The Knight Life
Keith Your humble narrator. Cartoonist. Family man. Community activist. Raconteur. Ambassador to the slightly skewered world of the Knight Life!! Join me as I take on everything from fatherhood and marriage, race and the media, spiders and consumer culture. Nothing is off limits!! I believe the fate of the world depends upon our ability to connect with strangers--the stranger, the better!!


Kerstin My loving, patient, German wife. She's pretty forgiving when it comes to my antics (as long as I remove spiders from the apartment!), but doesn't hesitate to let me know when enough is enough. As an immigrant, she has a unique take on American culture, which she finds amusing, confusing, and just plain weird. Did I mention she's afraid of spiders?


Dad My dad is retired and living in Las Vegas. Now his job is to collect free casino giveaways and unload it on me whenever I visit. He wonders why I'm not rich like Kanye or Jay Z or Will Smith. He believes Tiger Woods and I were switched at birth. He acts grumpy, but beneath the gruff exterior is a heart of gold (or depleted plutonium).


Dexter Sr. and Dexter Jr. A semi-retired gangsta rapper, longtime neighborhood resident Dexter's record company faked his demise to sell more records. In the meantime, he's raising his young son, Dexter Jr. to follow in his hardcore musical footsteps. A quiet, hardworking student, Dexter studies history and economics and is not a fan of gangsta rap. Dexter Sr. wonders how he went so wrong as a father.


Clovis A friend who is almost as geeky as I am! Clovis is a "wellness" expert/animal whisperer who is fascinated by all things otherworldly. Vampires. Zombies. Extraterrestrials. The Olsen Twins. You name it, he's been abducted by it.


Gunther Clovis's couch-surfing, on-and-off roommate. A naive, funny, goofy dude who is susceptible to any media trend or fad that comes along. He has few aspirations beyond becoming air-guitar champion of the world. His annual sleep-a-thon raises dozens of dollars for Internet research.