Available for print / Web / mobile
The Nutz family is definitely not the Cleavers, the Waltons or the Bradys. But you'll undoubtedly recognize them anyway. Most likely, they're a lot like the family you grew up in... where the battle for the last chicken leg is comparable to the Battle of Bull Run, sibling rivalry is putting it mildly, and family values usually refers to a coupon book. Soup to Nutz by Rick Stromoski stars hard-working Roy Nutz, his loving wife Pat, and their battling brood - sons Roy-boy and Andrew, daughter Babs and rambunctious dog Rosco.
Rick Stromoski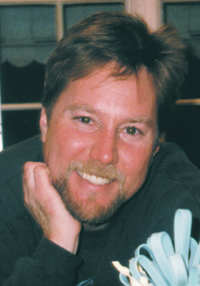 Stromoski is the seventh in a family of 12 children. Growing up in such a large family has given him an especially developed sense of humor that he has expressed through drawing from the moment he could pick up a pencil. A self-taught cartoonist and humorous illustrator, his work has appeared in national magazines, children's and humor books, newspapers, licensed products, national advertising and network television. Stromoski's greeting cards have become best-sellers for several major companies. He has won four Louie Awards for outstanding greeting card design. He has been nominated for his illustration work by the National Cartoonists Society 12 times and was awarded the Reuben division award for best greeting cards in 1995 and 1998, and for magazine gag cartoons in 1999. An NCS board member since 1997, he was elected president in 2005. The first Soup to Nutz compilation book, Soup to Nutz: The First Course, was published by Andrews McMeel in 2003. Stromoski has illustrated books for many publishers including MacMillan, Workman and Random House. He is also an award-winning winemaker. Stromoski, his wife and daughter live in Connecticut.
Meet the Cast of Soup to Nutz
Andrew Youngest of the three Nutz children. A sensitive, innocent child, which makes him a perfect target for his two older siblings. Likes to play with dolls but will attempt to play sports with big brother Roy-Boy. Is easily distracted and flinches a lot.


Babs Middle child and only daughter sandwiched between two boys. Can easily outwit her older brother and is big enough to boss her little brother around, which makes her a formidable adversary. Can turn on the charm in a nanosecond when motivated.


Roy-Boy Oldest child and Roy Sr.'s namesake. Somewhat dimwitted and easily outrun due to his "husky" build, but can inflict noogies that last for days. Likes to blow things up and will eat anything for money.


Pat The one who keeps her head about her when all others are losing theirs. Favorite activities include bargain hunting, separating her battling children and finding new and exciting ways to prepare frozen fish sticks.


Roy Hard-working blue collar patriarch prone to explosive outbursts when pushed to the limits of his patience — which is often. Favorite activities include any sport that can be done while sitting and having a few beers.