Cow and Boy, the daily comic strip by Mark Leiknes, explores the unlikely friendship of a boy and his cow. This beautifully drawn, strikingly funny strip stars Billy, a regular boy who enjoys fishing, biking and hanging out with his best friend named Cow, who just happens to have four stomachs and a set of udders.
Billy's dad is a farmer who enjoys a hard day's work and wishes his only son had not befriended a cow. Billy's mom is very loving, but has no room in her house for 800-pound animals. Billy's sister, Tracy, is a teenager who gets embarrassed by her brother and his cow. Martin, Billy's nerdy friend, enjoys hanging out with Billy and Cow.
Mark Leiknes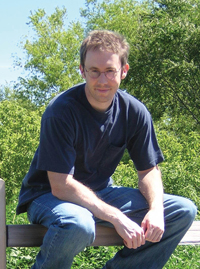 Cow & Boy is a daily comic strip from the mind of Mark Leiknes. It chronicles the ongoing adventures of Billy and Cow. The duo spend endless days pondering life's big questions, all the while dodging cat-copters, runaway tractors and any other oddity aimed their way. Cow & Boy appears in such publications as the St. Paul Pioneer Press and The Sacramento Bee courtesy of Newspaper Enterprise Association and Andrews McMeel Syndication.
"Cow & Boy started as my homage to the Midwest," says Leiknes. "I had grown up in Iowa, and my wife and I moved to Los Angeles. I set Cow & Boy on a Midwestern farm because I was homesick. Eventually, a farm kid named Billy and his talking cow revealed themselves as my main characters, and I ran with it from there."
Since its inception six years ago, Cow & Boy has evolved into a very unique comic strip. It carefully funnels philosophy through the precocious mind of an eight year old boy, often yielding results that are both surreal and slapstick. Cow & Boy can be appreciated by new readers with its silliness and and its amiably skewed take on the absurdities of everyday life, but also rewards devoted readers with recurring jokes and self-reference. The AV Club wrote in 2010 that Cow & Boy has, " ...bountiful appeal for both kids and adults."In a media-saturated age when comic strips tend to be overlooked, Leiknes is trying to stretch the medium and be heard.
Cow & Boy proves that there is still a place in this world for smart, edgy comics that also have warmth and adventure.
Meet the Cast of Cow and Boy Classics
Billy A regular boy who enjoys fishing, biking, and hanging out with cows.


Cow Billy's best friend. And she's a cow too.


Rick, Billy's Dad A farmer who enjoys a hard-day's work and wishes his only son had not befriended a cow.


Martin, Billy's Friend The nerdy neighbor who enjoys game that require twelve-sided dice and hanging out with Billy and cow