Playing sports is one thing, but kids playing sports gets a little more complicated. In Cleats, Bill Hinds explains this complex world of competition and camaraderie from the perspective of the kids, parents, and coaches. It includes the bond of teammates, and the rivalry between boys' and girls' teams as well as siblings.


Hinds is a field-tested parent/coach who writes Cleats from experience. This sports-savvy cartoon is a home run among athletic-minded families.


"Classics" for online and mobile only.


Bill Hinds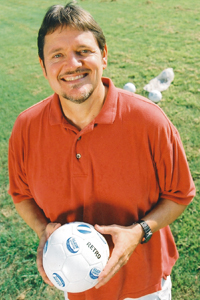 Bill Hinds created, writes and draws the cartoon feature "Buzz Beamer" for the magazine Sports Illustrated for Kids. "Buzz Beamer" has been the most popular feature in SI for Kids since the magazine's first issue. In 2001, Bill won the New Media division award at the National Cartoonists Society's Reuben Awards for his online work with Buzz.
Hinds also is the drawing half of the team, with writer Jeff Millar, that creates the sports comic strip "Tank McNamara." Tank has been running steadily in more than 300 papers since 1975. In 1987, Tank was named Sports Cartoon of the Year by the National Cartoonists Society.
Hinds was born on San Jacinto Day, April 21, 1950, in Houston, Texas. He graduated with a degree in fine arts from Stephen F. Austin State University. He is on the board of both the National Cartoonists Society and the Newspaper Features Council. Bill, his wife, Lisa, and their three children live in Spring, Texas.
Meet the Cast of Cleats
Jack Dooley A 10-year-old who is determined to move up to a select team. Jack dreams of someday scoring a winning goal with a bicycle kick in the World Cup final.


Abby Harper The starting forward on the "Panthers" select soccer team, Abby has played soccer for six of her 11 years. She happily annoys her next-door neighbor, Jack Dooley. Abby is competitive, but not mean.


Armando "Mondo" Ruiz Best buddy to Jack Dooley. Mondo is a natural; his family has played soccer for many generations. Although he's recruited by the select teams, he prefers to play on a rec team.


Peri Abby's best friend.


Edith A goalkeeper who prefers books to sports.


Dee Radomski A goalkeeper who has a crush on Edith.


Jerome Dee's best friend. Also a soccer player.


Coach "Bull" Tippit The granite-jawed coach of the girls select team. Coach is retired military and it shows in his coaching style.

As any soccer mom or dad knows, the sport has been steadily growing in popularity in recent years, especially among young people! Kids will love a comic about one of their favorite sports, and parents will relate to the comic's ever-supportive band of carpooling, game-attending, ref-scoffing parents. Join this group of pals, parents and coaches in their favorite game: soccer!
Cleats also follows the gang's adventures in other sports. Playing tennis, baseball, golf, gymnastics, skateboarding and more, the kids and their parents laugh their way through games and practices.