Available for print / Web / mobile
Deemed the most influential cartoonist now working by The New York Times, Pat Oliphant occupies a unique position among today's editorial cartoonists: Widely considered the dean of the profession, he is one of its sharpest, most daring practitioners. A master of what he calls confrontational art, Oliphant's work spares neither liberal nor conservative, sinner nor saint. As the most widely syndicated political cartoonist in the world and a winner of the Pulitzer Prize, he produces work that is as visually stunning as it is metaphorically powerful. Oliphant is a true artist in every sense of the word.
Pat Oliphant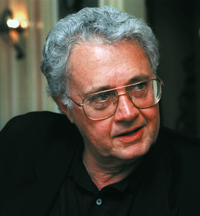 A native of Adelaide, Australia, Pat Oliphant began his career at his hometown newspaper before moving to the United States in 1964. He became a political cartoonist at The Denver Post that same year and quickly established himself as one of the best. His work became nationally and internationally syndicated in 1965, and in 1967, only three years after moving to the United States, he was awarded the Pulitzer Prize.
Oliphant has been the recipient of numerous other awards in addition to the Pulitzer, including two Reuben Awards and a Best Editorial Cartoonist Award from the National Cartoonists Society, the Thomas Nast Prize in Germany, and the Premio Satira Politica of Italy. He is a 2015 inductee into the Society of Illustrators Hall of Fame. His cartoons have been the subject of numerous exhibits (both national and international), and in 1998, the Library of Congress commemorated the acquisition of 60 of his works with a special exhibition at the Library's Great Hall.
The most widely syndicated political cartoonist in the world, Oliphant is a true artist in every sense of the word. He works in a variety of media in addition to his cartoon drawings, including sculpture, etching, lithography and monotype, and his artwork has achieved wide acclaim through many museum exhibitions and publications. His cartoons are published in countless newspapers and magazines worldwide, and specially commissioned works appear in The New Yorker magazine, The New York Times and The Washington Post.
Oliphant has published many books, including "The New World Order," "Oliphant's Anthem," and "Oliphant's Presidents: Twenty-Five Years of Caricature by Pat Oliphant." He has also published nearly 20 books of collected political cartoon drawings.
He and his wife, art gallery owner Susan Conway, live in Santa Fe, N.M.
Meet the Cast of Pat Oliphant