Failed golf professional Del has just inherited a golf club from a distant relative. Upon his arrival, Del finds Blooming Dogleg Country Club in a state of disrepair and being run by a group of woodland animals. After some threatening and some tears, Del enlists the animals (Dewey, Cosmo and Flip) to help him turn the club into a successful enterprise.


"Classics" for online and mobile only.
Nathan Cooper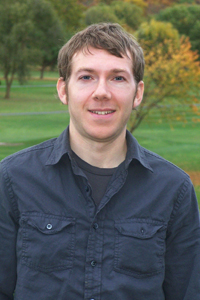 Nathan Cooper was born in the small town of Everett, Pa. It's so small that if you refer to the town's "other stoplight," residents will know exactly what you are talking about. Nathan's first major foray into the art world was drawing portraits of his relatives, which were apparently humorous.
He grew up playing golf in his grandparents' backyard, where he learned that yelling "fore" is not an acceptable excuse for breaking kitchen windows.
Nathan graduated from Penn State University with a degree in Sociology, and also holds a degree in Graphic Arts.
He is currently a freelance graphic designer and illustrator and lives with his family in the suburbs of Philadelphia.
Meet the Cast of In the Sticks
Del Be it trimming weeds, mowing fairways or getting Cosmo unstuck from the vending machine, this ex-pro golfer usually enjoys owning the Blooming Dogleg Country Club. He'll tell you that his passion for a well-manicured putting green keeps him at the course late into the night. Cosmo and Dewey would say it's because he can't get a date.


Cosmo This poetry-writing blue jay is the eyes, ears and wings of Blooming Dogleg Country Club. His idea of an "early-bird special" is taking a soak in the breakfast buffet's guacamole dip. And when Cosmo dons the velvet fez he found in the caddy shack men's room, he transforms from North American blue jay to "THE SWEET BIRD OF TRUTH!"


Dewey Dewey is a sweet, lovable bear who's not afraid to express his emotions. He's an occasional caddy for the country club's members, although he has yet to perfect his knowledge of golf lingo (he often calls for a repairman when somebody's putt breaks). Dewey believes that the fairway lawnmower is out to get him and his luscious pelt.


Flip Flip is a bit misanthropic and often states that he's "not a people person and I don't like lawyers either." Flip prefers to keep to himself, lurking in the course's pond and admiring the duplex-dam with outdoor pool he constructed with "found" golf gear.

One of the criteria we use to filter through the thousands of comic submissions we receive each year is an obvious one: Did you laugh?
Sadly, the answer is "no" with 99% of the submissions we get, so when a comic comes along that not only makes you laugh on first read, but on a second and third, you know you're on to something.
Such was the case for us with In the Sticks. Personally, I've read the samples tens (if not hundreds) of times and I still laugh out loud (or LOL as the kids say).
In the Sticks is silly, absurd, smart...and LOL funny.