"Maria writes funny, Maria draws funny and Maria does it with a ton of heart." -Jim Davis, Garfield

"Keep up the great puns and fun! You are a delight!!!" -Jan F., Reader

Half Full is a wonderful comic that delivers Maria Scrivan's worldview with freshness and confidence. Its wry and irreverent perspective on everyday life will appeal to audiences of all ages—in all walks of life.
Maria Scrivan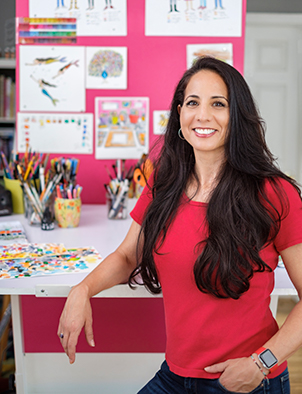 Maria Scrivan is a New York Times best-selling author and award-winning syndicated cartoonist.

Her best-selling graphic novels, Nat Enough, and Forget Me Nat were both released in 2020 to great acclaim.

Maria's laugh-out-loud comic, Half Full, appears daily in newspapers nationwide and on Gocomics.com and is celebrating its seventh year of publication.

Her work has appeared in many publications including MAD Magazine, Parade Magazine, Wired, National Lampoon, Highlights, American Bystander, Prospect Magazine (UK), Macmillan Books, Funny Times, Salon.com, Mashable.com and HuffingtonPost.com.

She also licenses her work for hundreds of greeting cards to Recycled Paper Greetings, American Greetings, NobleWorks, RSVP, Design Design, Woodmansterne (UK) and more.

When she's not writing or drawing, Maria loves running, cycling and standing on her head.
Meet the Cast of Half Full