Available for print / Web / mobile
The unabashedly conservative Glenn McCoy puts readers in the right state of mind. Glenn's hilariously wicked cartoons have caused readers to both wail and cheer -- a reaction any editorial cartoonist longs to evoke.
Glenn McCoy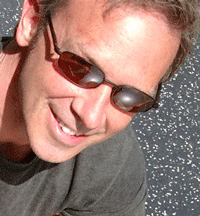 Glenn McCoy has long been recognized by his peers as a superior cartoonist.
The National Cartoonists Society (NCS) has twice named Glenn the Magazine Cartoonist of the Year, as well as Editorial Cartoonist of the Year and Greeting-Card Cartoonist of the Year.
Glenn was the first cartoonist to be victorious in three (NCS) categories.
His editorial cartoons have been reprinted in The New York Times, USA Today and Newsweek, and appear frequently on CNN. They also have been collected in two books, "Pot Shots" and "Pot Shots 2," both dealing with Bill Clinton's years in office.
Glenn was born in St. Louis and began drawing at age 4 under the tutelage of both his grandfather and his older brother, Gary. Weaned on "Peanuts" paperbacks, he acquired an early interest in cartooning and pursued that interest as the cartoonist for his grade school, high school and college newspapers. He graduated in 1988 from Southern Illinois University with a bachelor's degree in fine arts and graphic design.
After receiving his degree, Glenn landed a job as editorial cartoonist for the Belleville (Ill.) News-Democrat in his current hometown of Belleville.
In 1990, he won a national talent search called "Create the Comics of the '90s." Soon after, he began doing gag cartoons for some of the top magazines around the country. In 1993, his comic strip, "The Duplex" was launched by Andrews McMeel Syndication, and in 1999 Universal began syndicating his editorial cartoons. Two book collections of "The Duplex," cartoons have been published by Andrews McMeel Publishing.
Glenn partners with his brother, Gary, to create the daily single panel cartoon "The Flying McCoys."
In addition to his editorial cartoons, comic strips and magazine cartoons, Glenn has designed and written for several animation studios including Dreamworks SKG, Film Roman and Disney. He has written and/or illustrated several children's books.
Glenn and his wife, Laura, live in Belleville with their daughter, Molly, and son, Jack.
Meet the Cast of Glenn McCoy