Available for print / Web / mobile
Bad Reporter is a satirical large-format cartoon strip that lampoons current events. Bad Reporter uses news headlines combined with cartoon characters to satirize the latest trend, politician and news events. From politics to pop culture, Asmussen's strip is a combination of politics, pop culture and the ridiculous news stories in America that are almost too funny to be true.
The San Francisco Chronicle commissioned Don to draw Bad Reporter to cover the 2003 California gubernatorial election. The strip proved so popular with readers that the Chronicle kept the strip after the election and continues to run it twice a week.
Bad Reporter offers a fresh perspective on current events and comic relief in a serious news climate.
Don Asmussen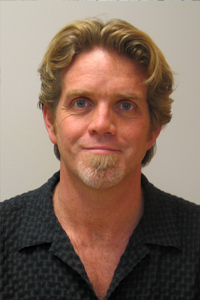 Don Asmussen is a cartoonist for the San Francisco Chronicle and Andrews McMeel Syndication. Asmussen was born in 1962 in Rhode Island. He has worked at the Portland Press Herald, The Detroit News, The San Diego Union-Tribune and Time Magazine.
His current strip is the semi-weekly "Bad Reporter" created for the Chronicle that runs under the slogan, "The lies behind the truth, and the truth behind those lies that are behind that truth."
Working for the Chronicle since 1997, he has also created short comic serials while on location covering the Super Bowl, the World Series, Burning Man, among other events. Another strip, The Hero Santon, appeared briefly on Salon.com in 1997, however has since moved to Mad Magazine.
In 2006, he released a book, Dog vs. Cat: A Nation Divided, a parody of the 2004 presidential election.
Meet the Cast of Bad Reporter
If there's a better comedic headline writer on the planet, I've not met him/her/it. Don's work routinely makes me laugh out loud; usually because he's combined two disparate news stories into something flat-out hysterical. Don does it all. He writes funny, he gets his point across and he creates absurdly amusing images.